Pharmaceutical Raw Materials Bimatoprost for Reducing Eye Lop
1.Bimatoprost Basic information
English Name: Bimatoprost
Other Names : Prostamide
CAS Number 155206-00-1
Molecular Formula C25H37NO4
Molecular Weight 415.27
Appearance: crystalline solid
Grade:Pharma Grade
2.Bimatoprost Description
Bimatoprost is part of a group lipid compounds called prostaglandin. Originally it was used as an eye drop to control the progression of glaucoma, an eye disease which results in damage to the optic nerve, and to manage ocular hypertension.
In 2001, pharmaceutical giant Allergan was approved by the FDA to use Bimatoprost as the active ingredient in it's medicine Lumigan. However during clinical trials, patients noticed that one of the side effects of using Lumigan was that their eyelashes were growing. And naturally, Allergan capitalized on this unintentional side effect by rebranding the same medicine as Latisse.
Bimatoprost is not suitable for everyone. Users with sensitive eyes may experience some side effects. Common side effects include itchy and red eyes. If discontinued, lashes gradually return to previous appearance.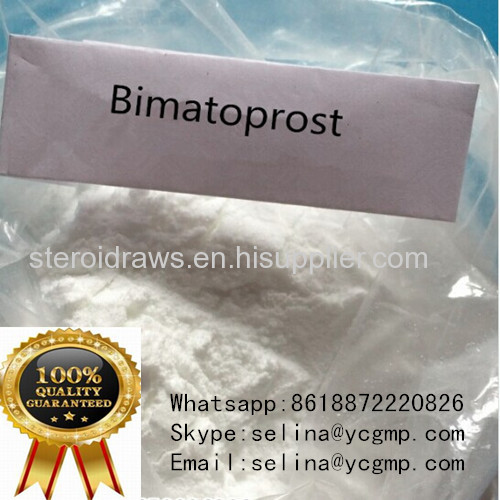 3. Bimatoprost Fuction
An increase in pressure within your eye can lead to damage to the optic nerve at the back of your eye. When this occurs it is called glaucoma. Glaucoma can lead to a loss of vision if it is not treated. If you have an increased pressure within your eye but without any damage to the optic nerve, this is called ocular hypertension. People with ocular hypertension have an increased risk of later developing glaucoma. Treatment with bimatoprost eye drops helps to reduce eye pressure in people with ocular hypertension, and to prevent further eye damage in people with open-angle glaucoma.
Bimatoprost eye drops work by increasing the drainage of fluid from the inside of your eye. This helps to lower the pressure within your eye. Bimatoprost eye drops are available as bottles of eye drops which contain a preservative, and also as single-dose units which do not contain a preservative.
Sometimes, more than one type of eye drop is needed to keep the pressure in the eye low. If this is the case for you, you may b